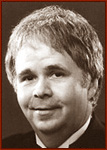 "I can't say that I knew Warren very well, but I was incredibly impressed with his huge talent and innocent persona. I only met him a few times, and those times were quite special. It must have been almost two years after he had recorded that medley of song parodies, which was done on just one day, and he never heard the recording again. Amazingly, he had almost total recall of the medley, including lyrics. Truly a genius, maybe a photographic memory! I wish that I had been around him a lot more. What a sweet man he was! My wife Ildiko and I fell in love with him the night of our 14th wedding anniversary when we listened to his spectacular performance at the Loews Hotel at Santa Monica beach. We'll miss him." Malcolm McNab
About Malcolm McNab...
Two-time winner of the MVP Award of the NARAS, Malcoln McNab has appeared on numerous records with major recording artists from 1970 to the present. These include concert groups with the LA Philharmonic Orchestra or the NY City Opera, and popular artists such as Dionne Warwick, Frank Zappa, Chicago or The Carpenters. He also can be heard on the Olympic recordings of 1984, 1988 and 1992. His television experience includes playing in the Academy Awards, Grammy, and Emmy Awards orchestras for many years; performing on the title tracks of the major network news themes; and solo performances on such TV shows as "Deep Space Nine" and "Dr. Quinn". McNab's motion picture soundtrack credits number over 1,000 from 1970 to the present and include "E.T.", "Jaws", "Star Trek" (1 thru 6), "Always", "Pretty Woman", "Dick Tracy", "Avalon", "Dante's Peak", "Lost World", "Men in Black", "Hercules", etc.